Want to show off those gaming skills you've been honing? Join us this winter semester as we host tournaments in popular game franchises and crown a Douglas College video game champion. Connect with fellow students over your favourite esports titles in fun, competitive play and flex your gaming muscles.
NOW RECRUITING PLAYERS TO REPRESENT DOUGLAS ESPORTS!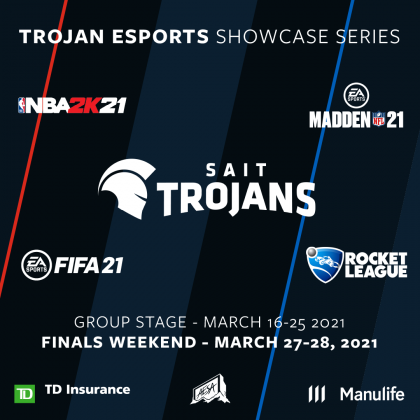 Interested in playing on a team with other Douglas students in some of the most popular online video game titles? This is your chance!
Alberta Esports Association and the SAIT Trojans are hosting an esports showcase open only to students registered in post-secondary courses. This means YOU can represent Douglas College in some of the most popular sport titles.
How can I register? First, fill out the Douglas College Pre-Registration Form and indicate what games you are interested in. We will get in contact with you and sort out the details. We will guide you on how to complete your registration with the host after your registration with us.
Where can I find out more? Visit the Event Website for complete tournament details or message an admin on our Discord channel.
DOUGLAS COLLEGE ESPORTS SURVEY
Help us, help you! We want to create a strong and sustainable video game culture at Douglas and need your feedback. Give us a few minutes of your time, share your thoughts and let's grow video game culture together!
Take the survey | Message us on Discord