Length of Program
Four semesters
Credential Type
Associate Degree
Campus
Coquitlam
New Westminster
Overview
The Associate Degree in Environmental Science is awarded to students who complete the general requirements for an Associate of Science Degree with a focus on courses concerned with environmental issues. This program concentrates on the principles of science that govern and describe the physical and biological character of the Earth, and on matters concerned with environmental degradation.
Program Requirements
Curriculum Framework
Graduation Requirements:
Successful completion of 60 University Transferable credits
Require a minimum GPA of 2.00
50% (30 credits) of all coursework must be completed at Douglas College
The Associate of Science Degree - Environmental Science is awarded after completion of the requirements specified below.  No course may be used to satisfy more than one requirement.
Mathematics courses (6 credits): 
English courses (6 credits):
First-year Science courses (at least 24 credits):
Required courses:
Additional required minimum 4 credits (choose from courses below):
Second-year Science courses (at least 18 credits, in at least two different subject areas):
Additional required credits (choose from the list below):
Arts courses (6 credits): 
Select any two Arts or Humanities courses, excluding Mathematics, English and all lab-based science courses.  Recommended Arts and Humanities courses can be found in the Douglas College catalogue under Associate of Arts Degree (thematic focus on Environmental Studies).
Co-operative Education Option
Students enrolled in this program may be eligible for a Co-operative Education designation.  Co-operative Education involves alternating full-time academic and work terms.  For information contact Co-operative Education at the Career Centre at Douglas College.
Admissions Requirements
Applicants must meet the admission requirements listed below:
Cost
You can get an average cost for your program - tuition and student fees, books, uniforms, lab fees etc - on the Program Cost page. 
Only programs approved for student loan funding are listed on the Program Cost page. For all other programs, refer to the Tuition Fee page.
Career Pathways
Students planning to complete a Bachelor of Science degree at a B.C. university, who also have an interest in the environment and related professions, should consider the Associate Degree in Environmental Science. It allows students to complete two years (60 credits) of first- and second-year university-level courses, including subjects related to Earth's biology and environmental issues. Students then transfer to university and enter the third year of a four-year Bachelor of Science program. Many universities prefer candidates with an Associate Degree and will accept students at a lower grade point average. 
Transfer to Related Degree Programs
See the Curriculum Framework for details on the following block transfer agreements:BSc Degree in Environmental Science at Royal Roads UniversityBSc Degree in Environmental Science at University of LethbridgeBSc Degree in Wood Products Processing at UBC
Program Guidelines
Program Guidelines for previous years are viewable by selecting the version desired. If you took this program and do not see a listing for the starting semester / year of the program, consider the previous version as the applicable version.
Testimonials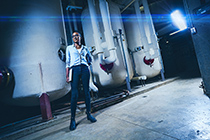 Go green or go home
Environmental Science student Christen McDonald puts her money where her mouth is.